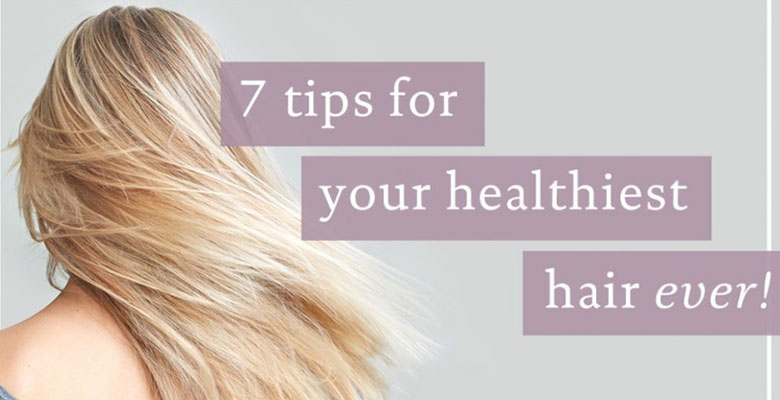 Keeping your hair healthy can seem like something only for movie stars and people that can afford their own personal beauty squad. But that's not true! You and I – everyday women – can have beautiful, healthy hair as well! And it's really not that difficult nor expensive. So for this year's resolutions let's take it one step farther than the 'I swear I'm gonna make it to the gym every day' or 'I just need to lose 15 pounds!' and commit to a resolution for an overall healthier you. Just follow these 8 tips for keeping your hair healthy and you'll see the difference in no time!

Believe it or not – keeping your hair healthy does not involve washing it everyday! I don't know where people got this idea in their heads, but it's just not true. In fact, I didn't even know there were people that washed their hair every day!! Ain't nobody got time fo dat! Try washing 2 or 3 times a week. It may seem like your hair will just grease up immediately, but give it time. When you wash your hair, you're generally stripping all the natural oils out of your hair as well and therefore your body thinks it needs to produce more and thus oily hair. It will take time to regulate but you will see that you can go longer in between washes.

Your hair is weakest when wet and we should avoid brushing through it right after the shower if possible. Solution? Brush your hair before you get in! This breaks up the oils and distributes them through the hair and makes them easier to wash out completely. If you still need a little help getting your hair combed through or you have curly hair, you can always comb through it with your fingers or with a wide tooth comb while you still have the conditioner in your hair in the shower. Then you shouldn't have to brush it after you're out of the shower!

Sure, it's fun to lather up and pile your hair high, but please stop—this actually causes more tangles, more friction, and more damage. Your scalp is where most of the dirt, oil, and other junk collect, so concentrate your efforts there and then pull shampoo down toward your ends.

Regardless of your hair type, this is a must. If you have fine hair, you may be tempted to skip this step, but know that fine hair is actually more prone to damage from tangles. If you're nervous about extra weight, our Full Conditioner is a great option because it weightlessly conditions and offers great slip for detangling.

This one I am absolutely horrible at. I mean, it shouldn't be hard, right? Just make an appointment every 6 weeks or so! It's important to keep your hair looking and feeling healthy to just snip off those dead ends! You will definitely notice the difference once you start doing it consistently!

Try to work into your schedule, maybe once a week or once every two weeks, a time to deep condition your hair. Your hair will thank you for it. You don't have to buy those expensive treatments either, there are plenty of ways to make your own! I'm working on some recipes for the blog that will be coming soon! Another easy way to make sure you deep condition regularly is to have the deep conditioner already in your shower and just switch it out for your regular one once a week. Leave it on while you shave your legs or wash and then rinse. No extra time needed!

It's best to not sleep on wet hair (as it's in its most vulnerable state) but if you must, sleep on a silk pillowcase and make sure to put it up in a loose braid or bun. This helps reduce the friction and damage caused when you toss and turn at night.